Elko Attorneys & Lawyers
Post a Job & Get Free Proposals
Popular Legal Services Covered by our Elko Attorneys
Umar Farooq focuses on corporate legal matters that include commercial contracts, employment matters and business operation management. He has represented Vodafone, RBS, ExonMobil and various other large corporations. Umar graduated cum laude from the University of Buffalo School of Law in 2007. He also received an Adelbert Moot Scholarship while attending the University in 2006. Umar started his own law firm in 2012 and is currently the managing business attorney.
Get Proposal
View Profile
Grant represents high-growth companies in all aspects of formation, financing, and intellectual property issues. He has previously done general corporate, intellectual, and real estate work at Nebraska's oldest law firm before transitioning to a more virtual lifestyle. As an entrepreneur himself, he understands the need to balance legal and business interests.
Get Proposal
View Profile
Currently the General Counsel for Civic Center Law Group, Rebecca London has 17 years worth of experience practicing law. She has spent some time in the business and environmental departments of law firms such as Procopio Cory Hargreaves and Savitch, LLP. Her specialties are in assisting small businesses with legal issues - some of which include commercial contracts, intellectual property management and trademarks. She attained her Juris Doctor from the University of San Diego School of Law.
Get Proposal
View Profile
Meet Chelsie, your dedicated Legal Strategist at Rondesse Legal. She specializes in corporate law and startup ventures, drawing from her experience in Corporate America and...
read more
Get Proposal
View Profile
I graduated from the University of Wisconsin Law School. Upon graduation, I worked for McDermott, Will & Emery in Chicago and practiced corporate, real estate and tax l...
read more
Get Proposal
View Profile
Craig H. Effrain has over twenty years of corporate legal experience representing and helping clients achieve their objectives. Mr. Effrain has worked for both law firms an...
read more
Get Proposal
View Profile
Christopher Cyrus is a highly-skilled attorney specializing in complex-commercial litigation. He earned his J.D., with honors, from The University of Texas School of Law, w...
read more
Get Proposal
View Profile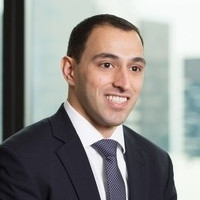 With over ten years' experience leading complex corporate transactions, Jairo's practice currently focuses on advising startups, small and medium sized businesses and other...
read more
Get Proposal
View Profile
Richard Christensen
Richard Christensen, the Managing Attorney at Christensen Law Offices, LLC, is a Business and Litigation Attorney with a lot of experience. He has spent time working for the Department of Commerce, as well as big tech companies. His experience allows him to handle matters in the immigration department of companies, as well as all the aspects of litigation. Richard attended the George Mason University School of Law in 2013 and obtained his J.D.
Adam Wax
Whether your business needs help with business formation or bankruptcy, Adam Wax can help. Mr. Wax practices in the areas of business operations, labor and employment, commercial contracts, mergers and acquisitions, and more. He can also help non-profits deal with the unique regulatory issues that affect them as well as lend a hand with real estate matters and general litigation.
UpCounsel is a secure service for your business legal needs
On UpCounsel, you can find pre-qualified, vetted, and rated Elko attorneys & lawyers that have several years of specialized experience in many areas of law for the business world that service the area of Elko, Nevada. By making it easy for businesses to connect with one or more top-rated Elko lawyers specialized in the area of law you require legal assistance with, you can hire the attorney best for you and get to work quickly.
It's always free to post a job and communicate with any of the Elko attorneys you sync up with about your unique legal needs. Upon posting a job request to our community of Elko lawyers, you will receive proposals from several attorneys who can best assist you. With UpCounsel, you can hire a Elko attorney with confidence, as we offer a money-back guarantee on all work completed with verified attorneys & lawyers servicing the city of Elko, Nevada on UpCounsel.
What Our Customers Have to Say
"UpCounsel gives me access to big-firm lawyers minus the big-firm price tag. I work with several attorneys on the platform and there are never surprises...I always receive quality legal work at competitive rates that larger firms simply cannot match."
"Every startup needs to know about UpCounsel. We found great attorneys at great prices and were able to focus our resources on improving our business instead of paying legal bills."
"Before UpCounsel it was hard for us to find the right lawyer with the right expertise for our business. UpCounsel solves those problems by being more affordable and helping us find the right lawyer in no time."
Find the best lawyer for your legal needs