Form I-693 & Preparing for the Medical Exam for Immigration
This guide helps you understand why the immigrant medical exam matters, the process, all the documents you require, and the cost of filing form I-693.  9 min read
Anyone applying for permanent residency in the US must undertake a medical exam for immigration. This exam ascertains that the green card applicants are in good health to live permanently in the US. The results of the medical exam for green card are reported in form I-693. This form is then submitted to the US Citizen Immigration Service(USCIS) for review and approval. 
The medical exam results noted on form I-693 are confidential and should only be accessed by USCIS. However, the government-approved doctor who administered the exam and USCIS might share your immigration medical exam results with other parties if required by law. These other parties can include your attorney, immigration officers, or BIA-accredited representatives. 
What is Form I-693?
Form I-693 is a document that reports the immigrant medical exam of people applying for permanent residency in the US. The official name is 'Report of Medical Examination and Vaccination Record. This report helps the USCIS determine whether you're inadmissible on medical grounds. 
For instance, if you have any of the following conditions per your medical exam, your application might be inadmissible on health grounds. This means your application for permanent residency might be denied. 
Gonorrhea
Infectious-stage syphilis
Hansen's disease 
Active tuberculosis
Drug abuse
Severe mental disorders
Communicable diseases which can cause a public health emergency
Mental and physical disorders that can lead to harmful behavior
In addition, failing to show proof of certain vaccines can also make your application inadmissible. 
Who needs to submit form I-693?
Everyone applying to be a permanent US resident must submit form I-693. Whether you're applying for a green card through marriage or a green card through work, you will most likely have to undergo a medical exam for immigration. Failing to submit the medical exam results through form I-693 can result in your application being rejected. Sometimes, USCIS asks you to submit the entire form, while in other cases, you submit certain parts of form I-693.
Form I-693 Instructions
For form I-693 to be legitimate, a civil surgeon(if applying from the US) or panel physician(if applying outside the US) must sign, approve and annotate your medical exam results. Here are other guidelines and form I-693 instructions;
The civil surgeon should sign form I-693 60 days or less before you file form I-485
The civil surgeon should follow the instructions of the US Department of Health and Human Services(HHS) when administering the exam
Have a vaccine or a waiver from USCIS for class A medical condition(e.g., Communicable disease)
When you attend the medical exam, the civil surgeon might ask you to present proof of identity. A government-issued passport or driving license is a valid document to present in this situation. Green card applicants under 14 years should bring their birth certificates with the applicant's full names, age, date of birth, and parents' names. If the documents are in a language other than English, the applicant should provide a translation. 
The civil surgeon's office can provide form I-693, but it's best to download it directly from the USCIS website as it will be the latest version.
Typically, form I-693 is split into 11 sections that you and your civil surgeon need to fill as per instructions. You can fill out the applicant's section before your visit but do not sign the form. Your civil surgeon should be present when you sign your section on form I-693. Parents or legal guardians may sign on behalf of applicants under 14 years. 
When to Submit Form I-693 
You can submit form I-693 when filing form I-485. Submitting the two together can help with speedy approval by the USCIS. You can also submit form I-693 during your in-person interview. However, the USCIS does not always require interviews from all applicants. If USCIS doesn't ask you for an interview and you hadn't submitted form I-693 when filing form 1-485, the USCIS may be forced to issue you an RFE requesting you to submit the medical exam form. This can cause delays in your application.
After the medical exam for green card, your doctor will avail a sealed envelope with your medical results and form I-693. This form should remain unopened and within the sealed envelope for submission; otherwise, the USCIS might reject an unsealed form. However, if you're outside the US, your doctor might send your form to your country's U.S embassy or consulate, although this will depend on your country's requirements. 
Sample I-693 form
Here's a sample section of form I-693.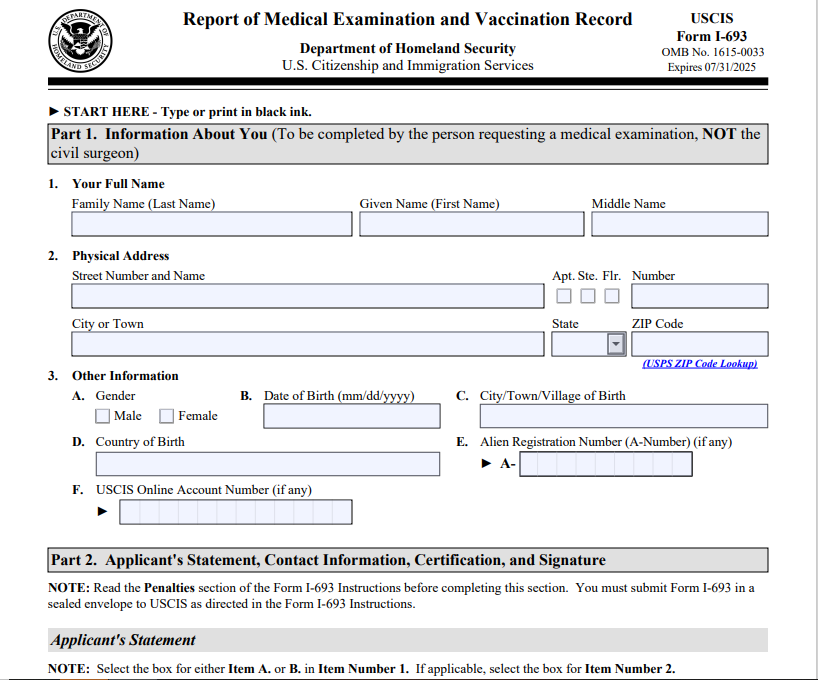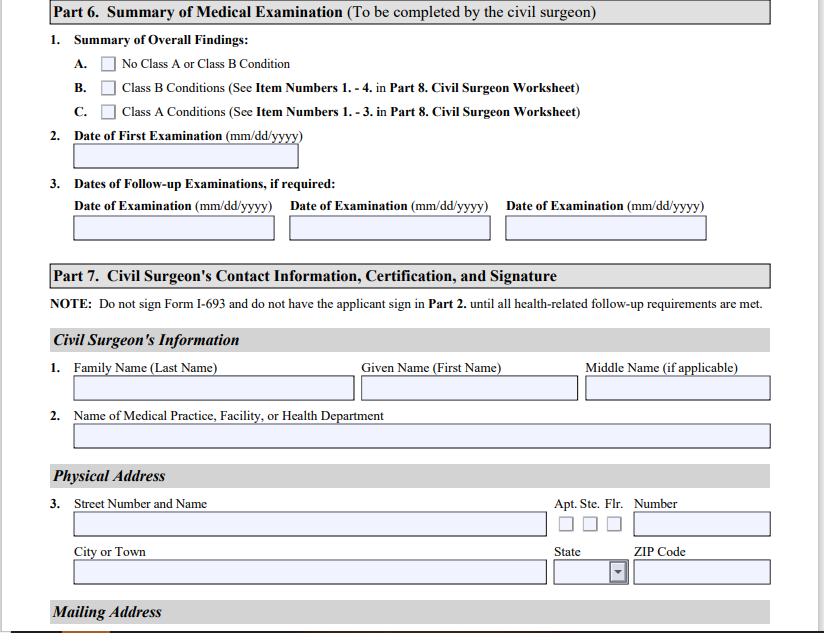 Form I-693 Fee
The USCIS does not have a filing fee for form I-693. However, you should be aware and prepared to pay the physician rate and medical exam costs, which will vary by region and facility. 
How Long Does it Take to Get Form I-693?
The medical exam reported on form I-693 takes the same time as a regular doctor's visit. However, you might wait 1 week to 2 weeks to receive your form I-693 from the civil surgeon unless your surgeon recommends further testing. You can collect the form from the physician once the medical examination results are out or have them send the form to your lawyer's office. 
I-693 Medical Exam Cost
The USCIS medical exam costs between $100—$500, depending on your state, region, and civil surgeon. The USCIS does not have any regulations about how much a medical exam for immigration should cost since it's at the discretion of your physician. You, as the applicant, are responsible for covering all medical costs. Your insurance may cover some or all of your costs, but in most cases, you will pay out of pocket.
What Does the Immigration Medical Exam Include?
The immigration medical exams consist of a medical review, blood tests, physical exams, drug and alcohol screening, and checking for vaccines. The medical exam is administered by a physician approved by the USCIS. The USCIS mandates this exam to ensure applicants do not have a psychiatric or medical problem that may cause harm to US citizens.
Generally, these are the items to bring with you when taking your medical exams for immigration. 
Government-issued ID/ passport or driver's license
Vaccine records
Insurance card or payment to cover your medical expenses
Form 1I693 when applying from within the United states
Green card interview if you're applying outside the US
Medical history, forms, and X-rays(e.g. a chest X-ray), if they're accessible to you
Let's break down what a medical exam for immigration includes. 
Green Card Vaccine Requirements
Any applicant applying for permanent residency in the US must have been vaccinated against these diseases:
Covid-19
Polio
Hepatitis B
Hepatitis A
Meningococcal
Rubella
Mumps
Measles
Pertussis
Pneumococcal pneumonia
Tetanus and Diphtheria Toxoids
Haemophilus Influenzae type B
The list can change from time to time, so make sure to check the USCIS website for changes. You only need to provide proof of vaccination if you have received these vaccinations. These records should be official, and the applicant must provide a translation when in a language other than English. 
If the applicant hasn't received these vaccinations yet are age and medical appropriate, they have a Class A condition and are inadmissible. If the applicant is not age or medical appropriate, the physician should record this on form I-693, so the USIS can waive the vaccines. 
Immigration Psychological Evaluation
During your medical exam for immigration, your doctor will also assess your mental health by checking for psychiatric or mental illness. This assessment will include a review of your behavior, judgment, and comprehension. The civil surgeon will pay particular attention to any medical or physical disorders that might cause harmful or violent behavior. They might also review a past mental disorder which is likely to reoccur. 
Immigration Physical Exam
Your doctor will most likely perform a complete physical examination on the following areas:
Ear, nose, and throat
Heart
Lungs
Abdomen
Skin
Lymph Nodes
External genitalia
Hands and Feet
You will also undergo a blood test to check for syphilis, although applicants under 15 years don't take the test. However, if they have symptoms or past history of syphilis, they might be required to take the test. In addition, you might undergo a chest X-ray.
Drug & Alcohol Screening
The physician will gauge your past and present drug or alcohol use. They might ask if you're taking any prescription medication and whether you have previously received drug abuse treatment.
If you're currently abusing substances or drugs, you might be inadmissible as it can cause you to engage in harmful behavior. However, if you have the records to prove that you have completed a drug treatment program and recovered from drug and substance abuse, you are still eligible for permanent residency applications. 
Medical History Review
Finally, the civil surgeon will review your medical history for past and current medical conditions. They will look for any significant events in your health history, such as prolonged hospital stays. 
FAQs about Form I-693 and USCIS Medical Exam:
Can you fail the green card medical exam?
Infectious diseases, e.g., STIs and other communicable diseases, can cause your green card application to be inadmissible based on health-related grounds. In addition, some cases of mental and physical disorders can also make an applicant inadmissible. 
If USCIS denies your application for health reasons, you can apply for a 'waiver of inadmissibility'. Sometimes, USCIS may provide certain conditions if it grants you a waiver. For instance, USCIS may ask you to get treatment immediately after entering the US. 
However, you will not be inadmissible because of a chronic medical condition as long as it is easily manageable.
It's best to get help from an online immigration lawyer when filing your' waiver of inadmissibility' to ensure you do it right. 
Is a medical test mandatory for a green card?
Yes. The medical exam for immigration is mandatory for all applicants applying for a green card. This exam also applies to the applicants filing for adjustment of status to become permanent US citizens. 
You might not need an immigration medical exam if you're filing form I-485 under these categories:
non-migrant K-1/K-2 
K-3/K-4 spouse
…as long as you had undergone a medical exam overseas one year or less before filing your Form I-485. In addition, the panel physician should not have found a class A medical condition during your medical test. If they did, you should have received a waiver of inadmissibility to satisfy USCIS requirements for the medical exam for immigration. 
However, you might need to provide proof of meeting vaccination requirements. If not, you'll need to fill parts 1-5, 7, and 10 of form I-693 with the help of a civil surgeon. 
How long does immigration medical take?
The actual medical exam will take the same amount of time as your regular visit to a doctor— about 15 minutes to one hour or an hour and a half. You'll then receive your results and form I-693 in about 1-2 weeks. 
Does immigration check your medical history?
A review of your medical history is one of the aspects of a medical exam for immigration. Your doctor will review your past medical records and vaccination records to ascertain that you check off all requirements by the USCIS. 
Does immigration test for gonorrhea (STDs)? 
Yes. You will receive a blood test to check for syphilis and a urine test to check for gonorrhea if you are older than fifteen. This test applies whether you are applying for a green card within or outside the US. Applicants under the age of 15 years may not be tested for STDs unless they have the symptoms or history of the said STD. 
How long is the immigration medical exam valid? 
On August 21, 2021, USCIS extended the validity of form I-693 from 2 years to 4 years from the time the civil surgeon signs your medical exam for immigration. USCIS implemented this change to accommodate the delays caused by the global Covid-19 pandemic. 
Should I submit I-693 with i485?   
It's not mandatory to file form I-693 with form I-485, but you can do so to speed up the application process. You can also submit your form I-693 during your interview. However, this may not go according to plan since the USCIS does not always ask all applicants for interviews. The best way to go about it is to submit both form I-693 together with form I-485 to reduce the back and forth. 
Get the Help of an Immigration Lawyer
Having a lawyer through the green card application process simplifies matters and ensures you're doing everything right. It can be an arduous process, so having someone walk you through the numerous applications, forms, and requirements can make it less stressful. Simply post a job on UpCounsel explaining your legal needs, and we will match you to a qualified lawyer for your immigration process.