Westlake Village Attorneys & Lawyers
Post a Job & Get Free Proposals
Popular Legal Services Covered by our Westlake Village Attorneys
I am a senior executive and strategic legal adviser with 19 years of experience providing legal services in international environments. I am a general counsel who can advis...
read more
Get Proposal
View Profile
Edward Robinson is a patent attorney that mainly works with corporations to help them obtain patent protection for pharmaceutical products, medical devices and related inventions. He is registered with the U.S. Patent and Trademark Office. Edward has over 14 years of experience. He practices law in California and received a J.D in law from the University of San Diego School of Law. Edward has recently jointed Tech Law LLP, but have represented a large number of companies as a corporate counsel.
Get Proposal
View Profile
Mandana Jafarinejad is a patent attorney with seven years of experience. She is exceptionally skilled in dealing with corporate legal matters that involves trademark and copyright law. Mandana has been licensed to practice law in California and she is a member of the California Patent Bar. She attended the Western State University College of Law, where she obtained her Juris Doctor in law. Mandana has been serving as a patent attorney at MJIP An Intellectual Property Firm since 2011.
Get Proposal
View Profile
Daniel E. Goodrich is a corporate counselor with over six years of experience. He has been licensed to practice law in multiple states, including California and the District of Columbia. Daniel holds a Juris Doctorate degree in law, which he obtained after graduating from the University of San Diego School of Law. Daniel primarily specializes in mergers and acquisitions. He founded his own legal firm, DG Law, in December 2012.
Get Proposal
View Profile
Raymond has more than 25 years of legal experience in business law, commercial contracts, and real estate, handling both litigation and complex transactional matters. His p...
read more
Get Proposal
View Profile
Your California Attorney for Startup, Business, Corporate, Arts, Publishing, and Entertainment Matters Melissa is a California attorney, assisting startups with general ...
read more
Get Proposal
View Profile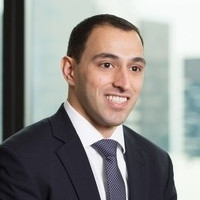 With over ten years' experience leading complex corporate transactions, Jairo's practice currently focuses on advising startups, small and medium sized businesses and other...
read more
Get Proposal
View Profile
Jeremy Just
Jeremy Just is a guru when it comes to real estate law and he can help you navigate your way through any real estate transaction. Jeremy started out underwriting commercial properties throughout multiple states and quickly progressed and publicly traded over 4,200 properties. Jeremy has completed over 100 development projects throughout the California area and can help you with all of your real estate needs.
Michael Murphy
Michael is specialized in employment law; corporate/business law; business formation and acquisitions; negotiating and drafting contracts; landlord-tenant/evictions; fraud;...
read more
Eric Anderson
Eric Anderson is both a businessman and a corporate attorney. He has over 13 years of experience and has been licensed to practice law in both California and Colorado. Eric obtained his legal degree from the University of Colorado School of Law. He specializes in multiple corporate legal practice areas and often assists his customers with reviewing, negotiating and drafting commercial contracts. Eric has been serving as an associate attorney at Jerry L. Freedman, APC, since 2016.
Useful Documents
Helpful Articles
More Attorneys
UpCounsel is a secure service for your business legal needs
On UpCounsel, you can find pre-qualified, vetted, and rated Westlake Village attorneys & lawyers that have several years of specialized experience in many areas of law for the business world that service the area of Westlake Village, California. By making it easy for businesses to connect with one or more top-rated Westlake Village lawyers specialized in the area of law you require legal assistance with, you can hire the attorney best for you and get to work quickly.
It's always free to post a job and communicate with any of the Westlake Village attorneys you sync up with about your unique legal needs. Upon posting a job request to our community of Westlake Village lawyers, you will receive proposals from several attorneys who can best assist you. With UpCounsel, you can hire a Westlake Village attorney with confidence, as we offer a money-back guarantee on all work completed with verified attorneys & lawyers servicing the city of Westlake Village, California on UpCounsel.
What Our Customers Have to Say
"UpCounsel gives me access to big-firm lawyers minus the big-firm price tag. I work with several attorneys on the platform and there are never surprises...I always receive quality legal work at competitive rates that larger firms simply cannot match."
"Every startup needs to know about UpCounsel. We found great attorneys at great prices and were able to focus our resources on improving our business instead of paying legal bills."
"Before UpCounsel it was hard for us to find the right lawyer with the right expertise for our business. UpCounsel solves those problems by being more affordable and helping us find the right lawyer in no time."
Find the best lawyer for your legal needs