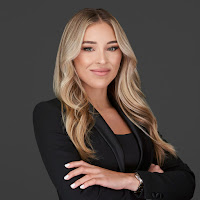 Monique Reyes
Attorney at Law
Florida International University College of Law
About
Monique N. Reyes is a Miami native with a specialized focus on business and real estate law who takes pride in offering personalized and tailored services in the following

- Florida business formation and regulations
- Business operating documents, e.g. partnership agreements, operating agreements, bylaws, etc. (formation and review)
- Complex restrictive covenants and non-compete agreements (formation, review, and enforcement)
- Real estate transactions; closing and escrow services, seller and buyer representation, residential real estate seller documents, title opinions, tenant and landlord representation, etc.
- Wills, Trusts, and
… read more
Estates

Monique offers complimentary 15-minute consultations and case reviews, schedule a call today by sending Monique a message or invitation for a proposal submission.
A few hours
Response Time
Representative Clients

Esthetics by Halima Martinez, LLC
Practice Areas
Main Areas of Focus
Real Estate
Real Estate
Buying & Selling Commercial Real Estate
Buying & Selling Residential Real Estate
Commercial Lease
Construction Contract
Home Owner Associations
Property Management Contract
Purchase & Sale Agreement (Commercial)
Real Estate Financing
Real Estate Foreclosure
Real Estate Investment Compliance
Real Estate LLC
Real Estate Litigation
Residential Lease
Tenant Dispute
Tenant Eviction
Zoning, Planning & Land Use
Other Real Estate Matter
Business Formation & Structure
Business Formation & Structure
Advisory Agreement
Business Formation Consults
Business Licenses & Industry Regulations
Buyout Agreement
Bylaws
Corporate Dissolution
Corporate Formation
Corporate Restructure
Delaware Incorporation
Founders Agreement
Franchise Agreement
Franchise Disclosure Document
Franchise Formation
Joint Venture Formation
LLC
Operating Agreement
Partnership Formation
Shareholder Agreement
Other Business Formation Matter
Commercial Contracts
Commercial Contracts
Affiliate Agreement
Business Consulting Agreement
Distribution Agreement
Equipment Lease
Licensing Agreement
Lien
Loan Agreement
Manufacturing Agreement
Marketing Agreement
Non-Disclosure Agreement (Commercial)
Privacy Policy
Profit Share Agreement
Publishing Agreement
Release of Liability
SaaS Agreement
Sales Agreement
Service Agreement
Terms of Service
User Agreement
Vendor Agreement
Other Commercial Contract Matter
"Monique is a very bright young lady with very obvious drive and dedication for her clients. I hired Monique for help in creating my small business, a beauty salon, and she filed my LLC, drafted all the documents regarding my partnership with my co-founder, and drafted the contracts i use with my clients to protect my salon from any future issues. She was extremely responsive at all times and always very thorough in her explanations to us. 10/10!!!!!"
Form business and draft all contracts and leasesNon-UpCounsel Client
"Attorney Reyes is the best title attorney! My husband and I purchased a home from a developer and she simplified the whole closing process. Highly recommend!"
Home purchase closingNon-UpCounsel Client
"Monique assisted me in launching a foreign exchange fund and her help was invaluable. She helped me understand all of the applicable regulations, formed all of the necessary entities, served as an intermediary between my company and the third parties necessary for the fund launch, and so much more. Other attorneys were charging me over $100,000 for the same services Monique provided me for much less and the quality of her attention was invaluable."
Fund StartupNon-UpCounsel Client
Work History
Miami Realty Law + Title P.A.
Real Estate and Business Attorney
Jul 2021 - Present
Owner of boutique Real Estate Transactions and Business Consulting law firm.
Jul 2021 - Present
EFR Law Firm
Associate Attorney
Jun 2021 - Jul 2022
Represented various prestigious clients in state and federal litigation with a primary focus on real estate transactions and securities fraud litigation. Counseled start-up clients in the establishment of their businesses and prepared all governing agreements, e.g. operating and partnership agreements, non-competes and restrictive covenants, employment agreements, commercial leases, etc.
Jun 2021 - Jul 2022
EFR Law Firm
Law Clerk
Mar 2019 - Jun 2021
Law clerk responsible for assisting in various complex commercial cases in state and federal litigation.
Mar 2019 - Jun 2021
Miami Dade State Attorney's Office
Law Clerk
May 2018 - Aug 2018
Law Clerk for the Miami Dade State Attorney's Office responsible for reviewing and drafting trial motions, assisting in trial preparation, and conducting extensive discovery in criminal cases.
May 2018 - Aug 2018
Want to work with
Monique Reyes?
Contact Monique