Tech Industry Trends: New Products and Services in 2017
From basic business analytics to marketing, accounting, and design, we found the most popular cloud-based software solutions in 2017 to help businesses.5 min read
1. Tech Industry Search Trends
2. SaaS and Business Intelligence Search Trends
3. Software as a Service Search Trends
4. Marketing and Automation Search Trends
5. Business Intelligence Search Trends
6. Free Cloud Accounting Search Trends
7. Your Business, Your Rules
8. Methodology
9. Fair Use Statement
The cloud is changing the way businesses are run.
From their ability to help teams collaborate more efficiently, reduce redundancies, and mobilize workforces, cloud-based technology isn't just changing the way companies are run internally, but also the way businesses can connect and communicate with the communities they serve.
From basic business analytics to marketing, accounting, and design, we studied Google search rankings and Wikipedia page views for some of the most popular cloud-based software solutions from July 2015 to April 2017. What to know what we uncovered? Keep reading to find out.
Tech Industry Search Trends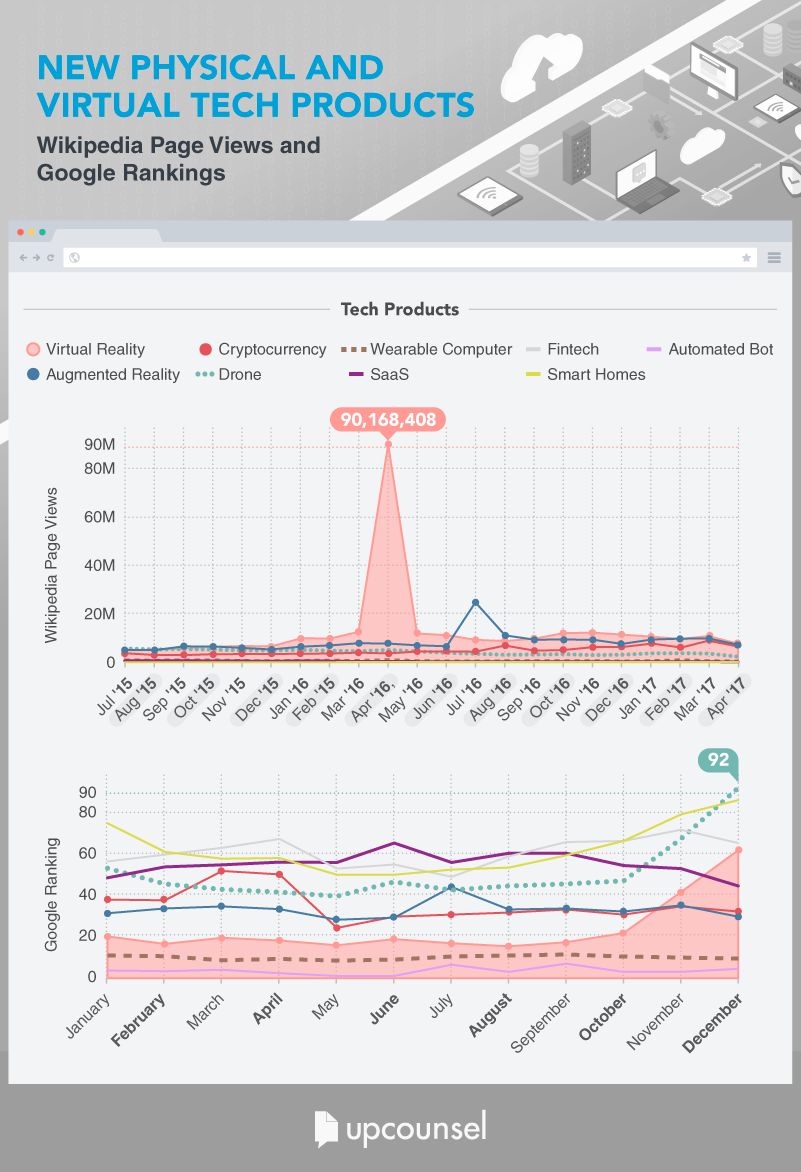 Understanding the new technology that has people most excited may be as simple as knowing what they've searched for through Wikipedia and Google. The largest spike in tech gadget searches happened in April 2016 for virtual reality. Wikipedia page views – which hovered around 10 million each month – spiked to more than 90 million in April.
Combined with the Virtual Reality Summit held during that time, the long-awaited Oculus Rift launched just days before on March 24. Even Google got in on the action with a timely April Fools' Day joke aimed toward VR that year.
While not as popular as virtual reality, Wikipedia page views and Google rankings for augmented reality were also high, peaking in July 2016 at the same time the global phenomenon Pokémon Go launched and was downloaded an estimated 15 million times.
Google searches for drones and smart homes peaked in December 2016. That year, drones were considered one of the most popular holiday gifts for people of nearly every age.
SaaS and Business Intelligence Search Trends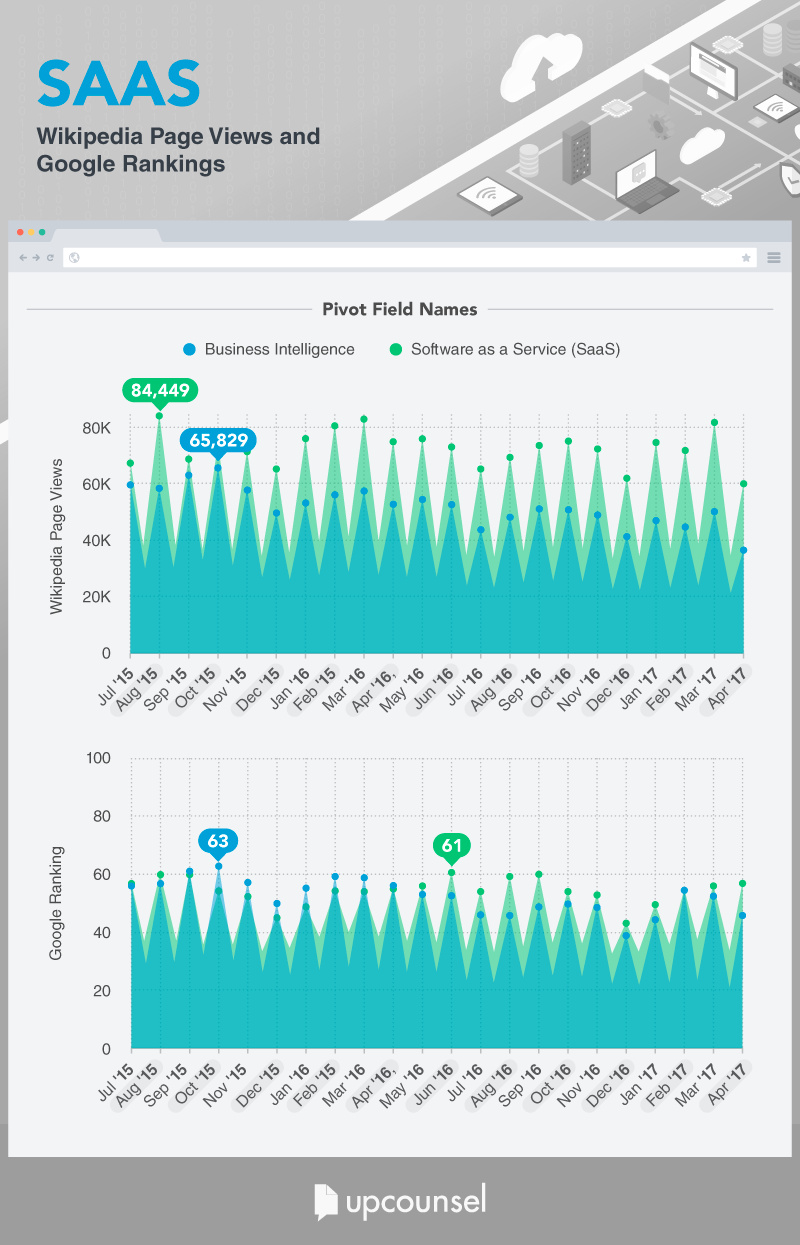 Our examination of Wikipedia page views and Google search rankings found common trends on how people search for Software as a Service (SaaS) and business intelligence (BI) solutions.
While BI programs include anything designed to help optimize business performance, SaaS applications are cloud-based rather than installed from a physical disc or download copy. SaaS solutions are largely stored on host servers run by companies like Google or IBM and allow businesses to operate within the browser of their choosing. This allows for fully fleshed out consumer and business software on once-limited mobile devices like the smartphone or wearable technology.
In 2016, the revenue for SaaS solutions outgrew the money made by on-premise software, and that gap is expected to continue evolving over the next two years as on-premise software sales decline. SaaS programs are changing the way businesses function. We found most Wikipedia page views for SaaS were higher than standard business intelligence between July 2015 and April 2017. At some points, like March 2017, SaaS page views were nearly double that of business intelligence.
Software as a Service Search Trends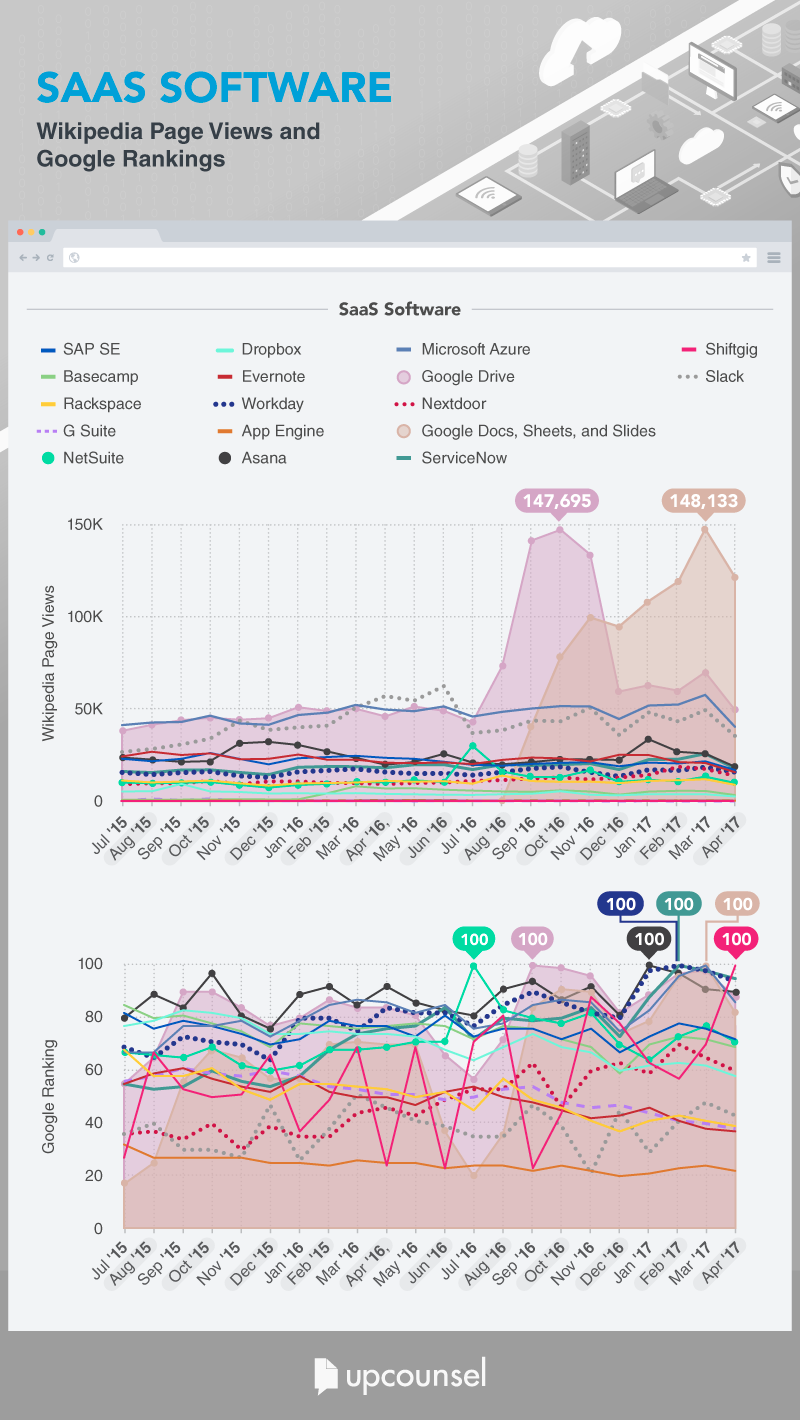 Since August 2016, Google Drive and Google Docs, Sheets, and Slides have dominated Wikipedia page views for SaaS solutions. While Google Docs launched in 2006, its Wikipedia page presence was relatively flat in 2015, peaking at over 148,000 visits in March 2017. With the ability to access content from any web browser, Google Docs – like Slack and Asana – has changed the way businesses can collaborate visually and communicate on projects. It has also helped reduce redundancy issues when colleagues aren't sure which version of a document is the most current, contributing to making business teams more productive. Google Drive offers businesses and consumers similar solutions, regardless of the file type.
While the average Google search rank for these SaaS products varied significantly month by month, many like Workday, Basecamp, Slack, and ServiceNow peaked in 2017.
Marketing and Automation Search Trends
The SaaS platform Salesforce has been the most popular for Wikipedia page views, as well as one of the highest ranking Google search results since July 2015. Salesforce products – heralded as one of the best cloud-based CRMs (customer relationship management) – offer businesses function efficiency through marketing, training, and the integration of other apps. From nonprofits to businesses of any size, Salesforce has been rated as one of the most innovative companies in the world.
Google Analytics, used by an estimated 30 to 50 million websites in 2015, and QuickBooks, which has struggled to move its core customers to cloud-based software, were also highly ranked Wikipedia pages for users looking up information on SaaS marketing automation tools.
Other software solutions like FreshBooks, Marketo, and HubSpot additionally ranked well on Google.
Business Intelligence Search Trends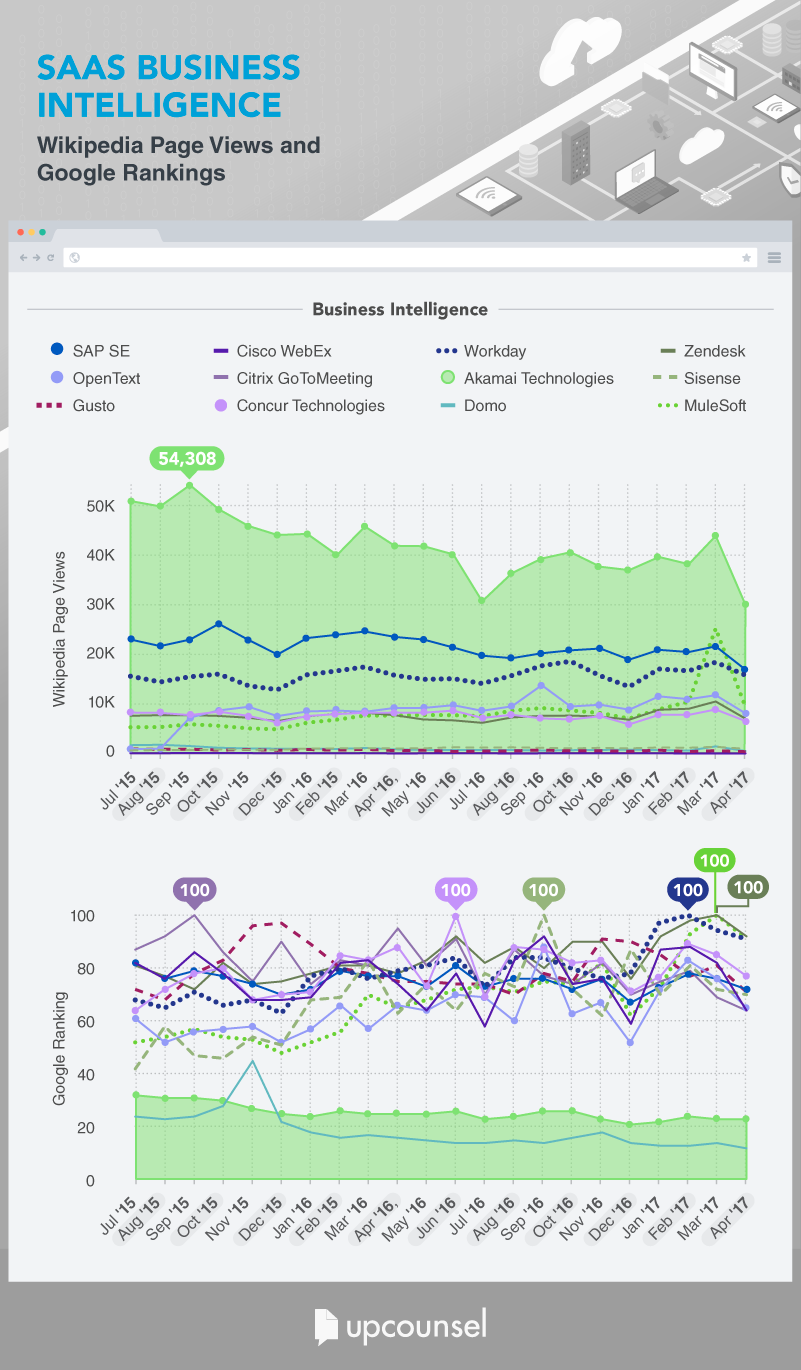 Akamai Technologies, which focuses on cloud-based website performance and security, has had more Wikipedia page views since July 2015 than any other SaaS business intelligence solution. Used by extremely high-trafficked sites like Amazon, eBay, and Adobe, the percentage of websites using Akamai has increased in 2017. While Akamai had the highest number of Wikipedia page views, it was somewhat poorly ranked (along with Domo) via Google search.
In 2017, Google rankings for SaaS BI solutions Zendesk, Workday, and MuleSoft were the most popular, followed by Concur Technologies, Cisco WebEx, and Gusto. Workday – one of the newer SaaS solutions on our list – has gained popularity thanks to its lower price point and visually modern interface. Because of this and other trends, traditional enterprise resource planning (ERP) software founded before the cloud revolution have been forced to adapt to include some elements of cloud-based software solutions.
Free Cloud Accounting Search Trends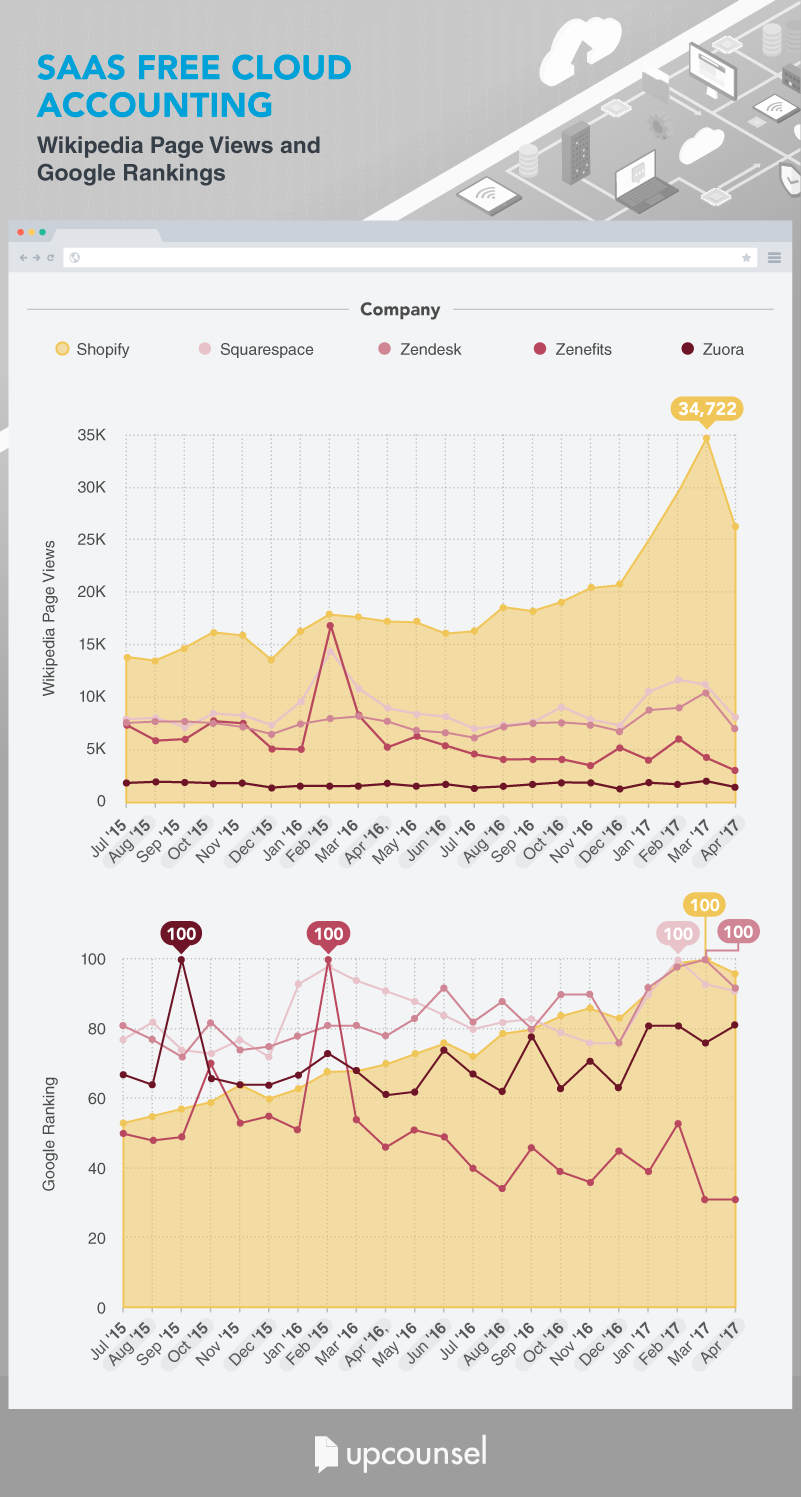 Of the cloud-based SaaS accounting solutions, Shopify was, by far, the most popular in Wikipedia page views. Used by a variety of different retailers, Shopify has revolutionized the e-commerce industry by making online sales easy and accessible for any level of business and by allowing users to scale up as their markets grow. In 2016, more than 100 million people shopped online via Shopify.
Online products like Squarespace are having an equally profound impact on the way businesses and consumers design their webpages and were also highly ranked on Google.
Your Business, Your Rules
Cloud-based software solutions are revolutionizing almost every area of business. From making companies more agile to growing their productivity, the SaaS programs studied have got people talking – and searching for more information online.
As the business world adapts to new technologies and solutions, should every area of your business be changing too? At UpCounsel, we believe in making legal services easy to acquire and cost-efficient without sacrificing quality. Today, UpCounsel is the fastest-growing marketplace for legal services, and our mission is to empower business owners and executives to run smarter, more efficient companies. To learn more, visit us online at UpCounsel.com.
Methodology
We gathered Wikipedia page views and Google search data to visualize the above trend data. 
Fair Use Statement
If you think that the emerging SaaS industry is as fascinating as we do, then feel free share the material found here in part or in whole for noncommercial purposes. If you do so, however, please link back here so that those involved in its creation can be properly acknowledged for their work.